Welcome to the home of Saranbeck Saint Bernards and Lhasa Apsos
We are members of the Kennel Club Assured Breeders and, as members, we agree to the set requirements that ensure the breeding of healthy and well-adjusted puppies. All our carefully-reared puppies are from hip, elbow and heart tested stock. We are proud of our stock and take a lifetime's interest in their welfare and happiness.
I started my kennel in 1969 with a granddaughter of Ch Cornagarth Stroller whose owner was the well known breeder Mr Ken Gaunt.
In turn she was mated to Ch Burtonswood Black Tarquin, brother of the famous Crufts Supreme Ch. Burtonswood Bossy Boots, owned by Mis Marjorie Hindes. This mating gave me my first Ch. SA Ch. Saranbeck King of Hearts, owned by Mrs Dunlop of Capetown.
Various imports were used including King Von St Klara Kloster. I then imported a smooth bitch puppy, Esther v Irsteanjo Hof from the Netherlands. She produced a lovely daughter that became Best Brood Bitch of the year, and other champions followed.
Then, taking out the Barandi affix with Miss Barabara Swaine Williuams, we imported several dogs from the Bernegardens kennels, and had the honour of breeding BOB at Crufts in 2005. Ch Barandi Spymaster.
Current Litter
Our last litter born 28th April 2015. Please call us on: 01723 584696 for more information.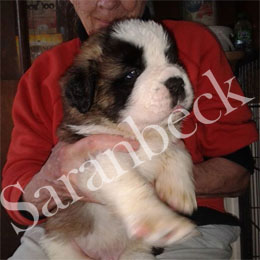 Crufts 2015
ZARA IN SI MINORE SARANBECK. - 2nd Post graduate Bitch Class. View more information on all of our show results for 2014-2015
General Information
We do our best to produce happy and healthy puppies. When you purchase one of our puppies it will be up to you to continue the process. How the puppy turns out will depend very much on your skill and care in his/her rearing. Here are a few general comments about caring for your St. Bernard puppy